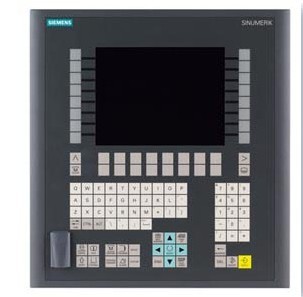 Siemens OP 08T operation panel:
Brand-new and original packaging, quality guarantees, guarantee for one year, offer technology service, the price is reasonable
Shanghai rise, wish electric technological Co., Ltd. ' Key retail trader of Siemens)
Contact : Su Yao ( Sales manager )24-hour service hotline : 15618619191
The worker of Siemens, agent of our company accuses of the products, the touch-sensitive screen, PLC, frequency converter and attachment prepare the goods throughout the year for the company,
In addition it is sufficient to sell the servo products stock of Siemens' numerical control, please call to consult if necessary, fine ten false.
Extremely compact the intersection of SIMUMERIK OP and the intersection of 08T and the intersection of operation and the intersection of panel and front make distributed to install, operate the intersection of panel and front and control, become possible. The operation panel front of SINUMERIK OP 08T includes 65 key membrane keyboard ( The overall arrangement the same as SINUMERIK KB 310C complete CNC keyboard) With 2x (82) Level and 2×8 vertical soft key.
The panel offers the specialized jig at random when supplied, the panel front of operation adopts this jig to install behind.
The purely flat operator's panel installs the depth small, the area is small, the power dissipates small SINUMERIK PCU adopts the antivibration to install and use 4 to add the distributed operator's panel in the switch board, can realize the high-efficient operation of the large-scale machine

The operation panel front of SINUMERIK OP 08T connects PCU/NCU through Ethernet, and in its own sub network, as the thin client (connect to PCU/NCU through DHCP server) .

Port:

2 x USB 1.1 ether network 10/100 Mbit/s

Carry on the installation of signal transmission and adopt the panel front of a operation and can realize and mix on PCU directly briefly through industrial Ethernet between operator's panel and PCU/NCU Control. The operation that operation connects with directness on the operation panel front of PCU on SINUMERIK OP 08T has the same mandate authorities. Operator's panel works on the passive mode, will be shown and rejected black. Confirmed(100 m/328 ft) by the maximum distance between two network nodes / access points to operate the distance of the front of panel .

SINUMERIK OP 08T operation panel front can be used in:

SINUMERIK 810D powerline/840D powerline:

SINUMERIK PCU 50/PCU 70,
The tape has thin client of WindowsXP and PCU basic model software, edition 7.4 or higher
(6FC5253? 7CX10? 4XA8, 6FC5253? 7CX11? 5XU8) ,
Or
Use Windows XP SP2
(6FC5253? 7CX11? 5XU8, 6FC5253? 7CX10? 5XU8) SINUMERIK PCU 50.3SINUMERIK 840Di sl SINUMERIK 840D sl: NCU 710.1/NCU 720.1/NCU 730.1/NCU 730.2 PN, SINUMERIK PCU 50.3 SINUMERIK PCU 321

Rely on SINUMERIK 840Di sl/840D sl, 2 X 8 vertical soft key can be used as the direct key.

The servo system CCU1/CCU3/CCU3.4 of Siemens 810D/810DE numerical control controls the main board: CCU3 controls the main board 6FC5410-0AY03-0AA1 special price stock CCU1 control the main board 6FC5410-0AY01-0AA0 special price stock CCU3.4 to control the main board 6FC5410-0AY03-1AA0 The stock CCU1 of special price control the main board 6FC5410-0AY01-0AA1 special price stock CCU1 to control the main board 6FC5410-0AY00-0AA0 special price stock CCU1 to control Main board 6FC5410-0AY01-0AA0 special price stock CCU3 control the main board 6FC5410-0AY03-0AA0 special price stock CCU3 to control the main board 6FC5410-0AY03-0AA2 The stock CCU1 of special price control the main board 6FC5410-0AA01-0AA0 special price stock


NCU573.5/573.4/573.3/573.2/572.5/572.4/572.3/572.2/571.5/571.4/571.3/571.2/561.5/710.2/720.2/720.2PN/730.2/730.2PN/6FC5357/6SN1118/6SN1124/6SN1123/6SN1145/6SN1146/1FK/1FT/ Numerical control main board /last module / last module / power module / motors servo / last series such as motors low-voltage,etc..
NCU 571.2 6FC5357-0BB11-0AE0
NCU 571.3 6FC5357-0BB11-0AE1
NCU 571.3 6FC5357-0BB13-0AA0
NCU 571.3 6FC5357-0BB13-0AA1
NCU 571.4 6FC5357-0BB14-0AA0
NCU 571.4 6FC5357-0BB12-0AE0
NCU 571.5 6FC5357-0BB15-0AA0
——————————————–
NCU 572.2 6FC5357-0BB21-0AE0
NCU 572.2 6FC5357-0BB21-0AE1
NCU 572.2 6FC5357-0BB52-0AE0
NCU 572.3 6FC5357-0BB22-0AE0
NCU 572.3 6FC5357-0BB23-0AA0
NCU 572.3 6FC5357-0BB23-0AA1
———————————————
NCU 572.4 6FC5357-0BB23-0AE0
NCU 572.4 6FC5357-0BB24-0AA0
NCU 572.5 6FC5357-0BB25-0AA0
NCU 573.2 6FC5357-0BB31-0AE0
NCU 573.2 6FC5357-0BB33-0AE0
NCU 573.2 6FC5357-0BB33-0AE1
NCU 573.2 6FC5357-0BB53-0AE1
———————————————
NCU 573.3 6FC5357-0BB33-0AE2
NCU 573.3 6FC5357-0BB33-0AE3
NCU 573.3 6FC5357-0BB33-0AA0
NCU 573.3 6FC5357-0BB33-0AA1
NCU 573.4 6FC5357-0BB34-0AA0
NCU 573.4 6FC5357-0BB34-0AE0
NCU 573.4 6FC5357-0BB34-0AE1
———————————————-
NCU 573.5 6FC5357-0BB35-0AA0
NCU 573.5 6FC5357-0BB35-0AE0
NCU 561.4 6FC5356-0BB12-0AE0
NCU 573.5 6FC5357-0BB35-0AE0
———————————————–
6FC5247-0AA00-0AA3
NCU box for accommodating the NCU561.5/571.5/572.5/573.5
NCU 561.5 6FC5356-0BB15-0AA0
NCU 571.5 6FC5357-0BB15-0AA0
NCU 572.5 6FC5357-0BB25-0AA0
NCU 573.5 6FC5357-0BB35-0AA0
——————————————————–
Servo main board NCU710.2/720.2/720.2PN / 730.2/730.2PN of Siemens 840D/SL numerical control
NCU 710.2 6FC5371-0AA10-0AA1

NCU 720.2 6FC5372-0AA00-0AA1

NCU 720.2PN 6FC5372-0AA01-0AA1

NCU 730.2 6FC5373-0AA00-0AA1

NCU 730.2PN 6FC5373-0AA01-0AA1

Shanghai rises and wishes electric technological Co., Ltd. keeps improving in the business activities, possess advantage of the following business:
SIEMENS programmable controller
1,SIMATIC S7 series PLC, S7-200, S7-200SMART S7-1200, S7-300, S7-400, ET200, S7-1500
2,Module LOGO of logic control! 230RC, 230RCO, 230RCL, 24RC, 24RCL,etc.
3,SITOP series direct current source 24V DC 1.3A, 2.5A, 3A, 5A, 10A, 20A, 40A
4,HMI touch-sensitive screen TD200 TD400C TP177, MP277 MP377 SMART700 SMART1000 TP700 TP1200 TP900 TP1500
SIEMENS hands in, spreads and moves the device directly
5,Exchange the frequency converter series MICROMASTER: MM, MM420, MM430, MM440, G120, G110, V10, V20, V50
Series MIDASTER: MDV
Series 6SE70 (FC, VC, SC)
6,Digital direct current adjusts and fits 6RA23, 6RA24, 6RA28, 6RA70 rapidly Series
SIEMENS numerical control Servo
1,Numerical control system: 840D, 802S/C, 802SL, 828D 801D:
6FC5210,6FC6247, 6FC5357,6FC5211,6FC5200,6FC5510,
2,Servo system: 611U: 6SN1123, 6SN1145, 6SN1146, 6SN1118, 6SN1110, 6SN1124, 6SN1125, 6SN1128,
3,Servo system: S120: 6SL304, 6SL3210, 6SL3130, 6SL3055, 6SL3054



Contacts: Su Yao
Telephone: 86021-61124398
Fax: 86021-37002045
Email: 616803488@qq.com
Web site:
Address: Is Songjiang district of Shanghai loose? ? ? Monthly room of new field 1021-1022 of tall building of the road No. 128