48v transfers to 24v switch type DC-DC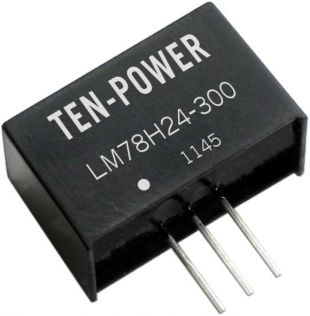 Brand: TEN-POWER
Name: 48v transfers to 24v switch type DC-DC
Type: LM78H24-300
About products:
Switch type DC-DC LM78H24-300 research and develop produce, isolate module, DC-DC of steady voltage, for TEN-POWER, input the intersection of range and 36-72v, steady voltage export 24v, 300mA.
The products are detailed:
Product performance
n The input range n pin compatible traditional 78xx series n that the switch type, efficiency are up to 95% n 9-72VDC does not need extra fin n to short out and protect, overheated to protect n low line wave, noise n and meet UL94-V0 requirement n MTBF> N working temperature of 2 million hours: -40 ℃- +85 ℃
Products summary
LM78Hxx-500 of TEN-POWER subminiature, high-efficiency switch voltage stabilizer in series, have ultra to input the range into while being wide, can substitute the end line voltage stabilizer of traditional 78XX series three directly. It is with high efficiency and generating heat low, does not need the fin while using. Apply to car electron's supplying power extensively, some (POL) of load that voltage such as the industrial electric energy meter are with great fluctuating range Field of supplying power.
Type overview of the products
Type Input the voltage (V) Output Efficiency % (when fully loaded with) Mark and claim Min Max Voltage (VDC) Electric current (mA) Min Vin Max Vin LM78H03-500 48V 9 72 3.3 500 82 75 LM78H05-500 9 72 5.0 500 87 81 LM78H06-500 9 72 6.5 500 91 84 LM78H09-500 14 72 9.0 500 92 86 LM78H12-500 17 72 12 500 93 89 LM78H15-500 20 72 15 500 94 90 LM78H24-300 36 72 24 300 95 91
Output the characteristic table
Project Condition of work Min Type Max Unit Voltage precision of the output 100% of the load, input voltage range ± 2 ± 3 % Linear regulation rate The low-voltage of inputting the voltage from the most is fully loaded with to the supreme voltage ± 0.4 ± 1.0 Support the percentage modulation Load from 10% of the load to 100% ± 0.3 ± 0.6 Wave of the line + noise 20MHz bandwidth, 100% of the load that 10% of the load gets 25 60 mVp-p Short out and protect Sustainable, resume by oneself It is protected that overheated 160 ℃ Export and limit the electric current 700 1200 mA Switch frequency 100% are supported, input voltage range 120 — 800 KHz Dynamic load stability 100% to 10% are supported ± 100 mV 1.0 1.5 ms Static electric current Input voltage range 1 5 mA Coefficient of temperature ± 0.015 % / ℃ Most greatly holding load 100 μ F