9050/9052/9054 Continuous the intersection of thing and location monitor / controller inferior victory ARJAY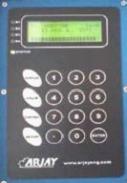 Brand: Other
Name: 9050/9052/9054 Continuous the intersection of thing and location monitor / controller inferior victory ARJAY
Type: 9050/9052/9054
About products:
Level-Ease MODELS 9050/9052/9054 – continuous the intersection of thing and location monitor / the intersection of 9050 controller and series offer one standard the intersection of 4 and LCD, can reveal continuously the supplies are high in the container
The products are detailed:
Level-Ease MODELS 9050/9052/9054
— Location monitoring of the continuous thing / controller
Series 9050 offer one and 4 lines of standard LCDs, can reveal the height of the supplies, percentage of the volume or material location,etc. in the container continuously, and
The display can also be used as instrument's diagnosing oneself, Biao is fixed to segment, function programming of control on relay can come with it too.
Measure the unit
Medium temperature: -60 ℃- 260 ℃/ 350 ℃/ 1000 ℃ is (available)
Relative humidity: Less than or equal to 90% RH, has not condensed
Working pressure: 10 M p a (special requirement can be customized)
Authorize: I A 2 C T 6
Control unit
Ambient temperature: -20 ℃-60 ℃( Industrial standard)
0 ℃-50 ℃( Civil standard)
Power: 220VAC/50HZ, 24VDC
Simulation is exported: 4-20mA
Measure the range: 0-10000PF (the best: 0-1000PF)
Precision: ± 0.2% (full range)
Resolution ratio: 0.01% of normal standard, 0.03% of lowest standard
Interface: RS-485 Modbus
Reveal: 4 lines of LCD
Relay:
[email protected]
short-hilted broadsword pair thrown ' Dry)
9050: It have /9052:2 piece / 9054:4.
Performance and characteristic
Technical indicator
Use two standard some automatic graduation of material location
Measure the electric capacity with the electronic technology of the radio frequency
The system is easy to use, remote control safety, it is convenient to finalize the bid and maintain
The part of the instrument can be changed, expanded
Or is shouldering 4~20mA to export, offset compensation
The menu is guided, many kinds of procedures of finalizing the bid can quote
Can move the part, sturdy and duable