China produces PLC China and produces Mitsubishi PLC programmable controller (SL1N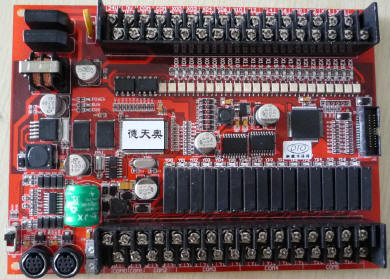 Brand: MITSUBISHI – Mitsubishi
Name: China produces PLC China and produces Mitsubishi PLC programmable controller (SL1N-40MR-S)
Type: SL1N-40MR-S
About products:
Input 24 into ' Two-way 100KHZ inputs at a high speed) ,Export 16 ' Electrical relay type)
The products are detailed:
SL1N-40MR-S programmable controller is No. I/O panel small-scale programmable controller (PLC) 40 ,It is the performance comparison high PLC of a kind of digital quantity I/O interface. It designed the demand of low price, high-performance PLC under No. 40 for meeting the market. But the flexible automatically controlled occasion of using various industry, for instance electron and chemical industry, plastics, light textile, food, the intersection of person who pack and the intersection of production and machinery in the trade, the intersection of industry and assembly line, in the industry control equipments of different lathe. It has offered to user and adopted traditional logic method of ladder-diagram and HJ to be the ability that the user-customized programming method develops to a control system.
The function is introduced: Programming software compatible Japanese Mitsubishi FXGP_WIN-C ladder-diagram software
Support the programming mouth to control the working power DC24V of the function
Input 24 into ' Two-way 100KHZ inputs at a high speed) ,Export 16 ' Electrical relay type)
This machine adopts high performance to import the chip design of technical grade, can adapt to the industrial environment of high electromagnetic disturbance
High-speed computation, every step 0.08uS of the basic instruction
The pair of communication interface has RS422, needn't programme communication of apparatus such as the direct and man-machine interface
The space of procedure is 8000 steps, it is unnecessary battery memory, does not need to safeguard
The internal electrical relay is at 1536 o'clock
The counter is at 235 o'clock
The timer is at 256 o'clock
EEPROM data power down memory
The programming language adopts the ladder-diagram
Adopt, scan round working way joinable Input/Output expand module and special the intersection of function and the intersection of module and the intersection of basic cell and built-in 2 axle highest 100kHz make the bit function independently in right side (the exporting type of transistor-resistor logic)
Built-in 24V/500mA direct current power supply, available for peripheral device, for instance other components such as proximity sensor
The integrated compact type is designed, it is 180 130 28mm to be long and wide and high
It is apt to install easy-to-use fixing hole installation, install and trepan the size: Long width 172 122mm