COPLEY straight line electrical machinery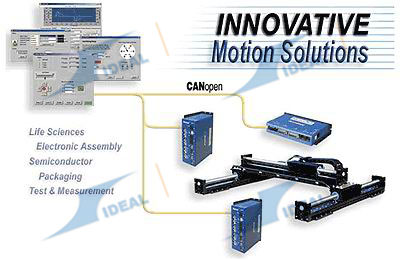 Brand: COPLEY
Name: COPLEY straight line electrical machinery
Type: Series TB
About products:
Copley Company regards technology as the core, is developing Hi-Tech, multi-functional products of different classes constantly. The servo drive of production of Copley Controls Company gives play to the performance of the electrical machinery to the maximum extent, it adopts DS
The products are detailed:
COPLEY straight line electrical machinery
ACM series driven for the industrial normal form CANopen. Offer PCB interface, inside is bringing S curve function, very automatic parameter, diagnoses the looks preface automatically.
-Operate the mode: PVT, the position, the speed, the moment, the origin mode of going back
-Control signal: CAN, PWM / direction, pulse / direction
-The code signal accepts: 20MHz (increment type) ,Hall
-Bandwidth: 2kHz
-Input the function: CAN address is operated, can enable, the location of limit, the sensor of the electrical machinery, the position catches, will go back the origin
-Export the lasting electric current: 3-10A
-Input the voltage: 20-180VDC figure type brushed servo drive
Straight line electrical machinery, straight line are driven
The figure type brushes servo drive
? American famous Copley Company offers the pulse width various in style to user to modulate (PWM) Servo driver, can be used for driving 0.02KW any direct current and servo electrical machinery of exchange in 40KW. Can also drive and has not brushed DC servo electrical machineries, DC moment electrical machineries and work under ring of the electric current, electric current ring, speed ring and position ring, and have electric function of four quadrant regeneration, the electrical machinery needs to bring Hall a sensor, the speed is feedbacked and can come from Hall's sensor, test the signal of the generator or encoder. While producing the servo electrical machinery to form a complete set with importing electrical machinery or China, the composition is high