DELTA platform reaches the F series air blower water pump type frequency converter VFD055F43A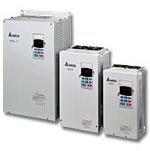 Brand: Delta – platform is reached
Name: DELTA platform reaches the F series air blower water pump type frequency converter VFD055F43A
Type: VFD055F43A
About products:
5.5KW 380V air blower water pump is specialized
The products are detailed:
Product information:
This series high-power offer, to the intersection of air blower and load property that water pump run but design, a host computer can control four electrical machineries at most ' Variable speed one, three constant speeds) ; In addition, add the pump / reduce pump delaying time and automatic energy-conserving function even, make the system run more efficiently.
Specification characteristic:
1. Frequency 0.1-120Hz of the output
2. But V/F curve presumed
3. 16 segments can preserve the speed and 15 sections the procedure run
4. Built-in PID tickles and controls
5. Time / quantification circulates and controls
6. MODBUS (RS-485 Potter rate can reach 38400bps) is put inside
7. Support the interface module of communication: DN-02, LN-01, PD-01
The best application:
Air conditioner of the building, waste water process system, water -supply system of the building, water -supply system of the counties and cities,etc.