Draw back the controller of the in charge ofing machine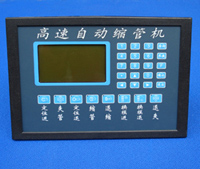 Brand: KEB – Kobe
Name: Draw back the controller of the in charge ofing machine
Type: KSG
About products:
$descript1$
The products are detailed:
Draw back the controller of the in charge ofing machine
The characteristic of the products:
4.7 display screens, the offering an explanation rate is 240128; Can customize every producer own LOGO and reveal the popularization as the products in the display screen;
Interactive man-machine interface, facilitate the man-machine dialogue, easy to operate;
Each manual movement can be operated on the panel directly, facilitate the debugging of the machine;
Input some but the convenient one is linked with every sensor directly;
This controller exports the electric current and reaches 6A, can receive the corresponding electromagnetic valve directly, has saved a large amount of relaying and wiring;
This system is the embedded computer controller that in charge ofing machinery is designed specially, it is easy to operate and apt to study, the cost performance is high;
Count automatically, count totally, to count functions such as prewarning,etc.;
Every function and movement control the procedure can be made to order according to customer's request;
Product specification:
Type KSG
Power AC220 (& plusmn; 20%) V 50Hz
Consumption 3W
Working temperature 0- 50 ℃
40% of working humidity- 80%
Size 31421442mm of the appearance
Make the hole size 245166mm
Controller this the intersection of mechanical equipment and producer of in charge ofing etc. more than use history for 5 years already, get the general favorable comment of every producer, our company can make to order different procedure according to different producers, our technological capability is possible you are satisfied; Cut person who in charge of, return bend machine, bend plane controller otherwise, welcome, send a telegram or a letter here, consult!