Green card sneaks the oil pump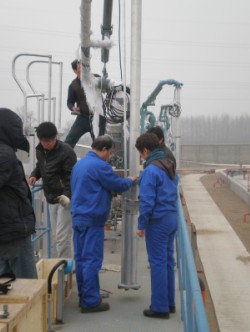 Brand: Green card
Name: Green card sneaks the oil pump
Type: Green brand YQYB
About products:
The details are consulted: Wang sets up beautiful mobile phone: 155 2298 1361 Tel.: 022-83698199 ext. 27 or QQ: 364753555 is submerged in the medium, compare because of its impeller
The products are detailed:
The details are consulted: Wang sets up beautiful mobile phone: 155 2298 1361 Tel.: 022-83698199 ext. 27 or QQ: 364753555 because his impeller submerge in the mediums, compare to other structural pumps, don't inhale by oneself while unloading the oil, it is too imported to suck the empty phenomenon either, so, the pump changes and sucks in order to send while transporting mediums, medium will vaporize, pump incident vapour lose and system will take place angry to hinder the phenomenon. 1,Very steady during operation, its noise level and separating and exploding the electrical machinery with the power about equally; 2,Have not sucked the course by oneself, produce oil once energizing, solve the problem that while unloading the oil, losing the oil under the high temperature completely, realize that unloads the oil for 24 hours; 3,Will not produce the oil steam while unloading, inputting the oil, has reduced oil losses on one hand, on the other hand has even stopped the potential safety hazard, avoided environmental pollution at the same time. 4,Use and improve the oil depot to mainly unload the erection site of the pump, make the reservoir area planarize. The arrangement of the oil depot is more esthetic, it is more convenient to use. 5,Reliable bearing structure, has improved dependability and service life of the bearing effectively, make the bearing not become the quick-wear part again, within fixed service life of pump, non-maintaining. 6,It is convenient to install. In charge of sneaking the oil pump as to YQYB explosion-proof type electronic crane, can install and cover the place in the hole of the oil tank; In charge of the head change as to YQYB series pump to existing crane only ' It is high according to the pump to cut the short crane to manage) ,Combine to the intersection of crane and the intersection of location and spring ' Counterweight) Adjust slightly, the explosion-proof can hold and is in charge of the head in the crane fast, firmly when sneaking the liquid type light oil pump. 7,While unloading the oil and finishing and stopping the pump automatically, the limited tank bottom had the oil left to save the time of sweeping the homework of storehouse with tank wagon greatly.
Have multiple independent patented technologies, green card sneaks the oil pump to design to be essence safely type ExdsIIAT3 ,And the anti-blast certificate of quality.
Service life: More than 10 years
Oil medium: Petrol, diesel oil, fuel oil, aviation oil, spraying the petrol and kerosene, the mixtures of 80% of the petrol and 20% MTBE, ETBE or TAME, 0%-20% ethanol or methanol and petrol mixture, ethanol, methanol, different propanol, B sour B ester, toluene,etc..