Grind China IPC-610L (PCA-6010VG / pair nuclear 2.7/1G/160G)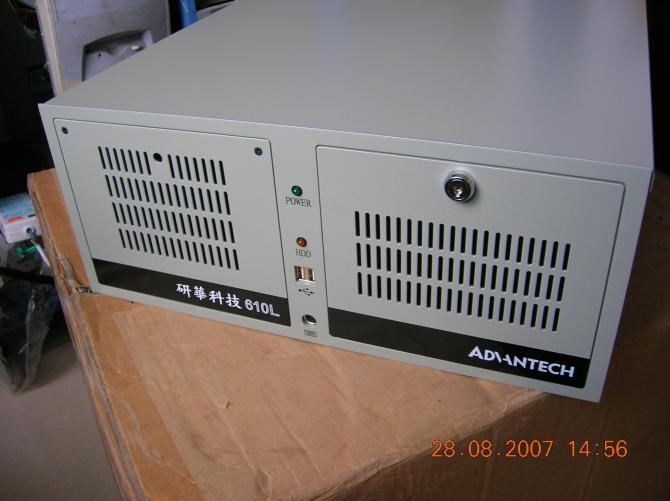 Brand: ADVANTECH – grind China
Name: Grind China IPC-610L (PCA-6010VG / pair nuclear 2.7/1G/160G)
Type: IPC-610L
About products:
Mobile: 13618466396 Tel.: 0731-84587416 QQ: 214390423 Postbox:
[email protected]
contact: Yellow flat B-810 of Cyber Port of collection of hundreds of computers of Middle Road of refined people in Changsha of the Guangxi Zhuang Autonomous Region
The products are detailed:
Machine case
IPC-610 (including the power)
Main board
PCA-6010VG
CPU
Cool Rui E5300
Memory one
DDR2 1G Memory Hard disk
160GB HDD Optical drive
DVD Optical drive Keyboard /Mouse
A set of piece of photoelectricity
Main characteristic

It is 4U 14 troughs of framework installing machine cases high
Many kinds of power select
Heat with filter screen is inserted and pulled out 86 – CFM cools the fan
Can select ATX main board edition
Content introduction

IPC-610 is 19 " The framework installs the industry computer machine case, design for key application of the task specially. The intersection of machine and case this can hold one 14 the intersection of bus and passive baseplate or main board, ATX of standard, PCI/ISA of trough, and support various power. The panel door that can lock can prevent visiting to the machine case in a situation that without permission. One heat insert, pull out, filter, cool fan, can enable air in the whole the intersection of plane and case keep pressing. The driver bracket that insert through its screw and the antivibration is installed, IPC-610 can work under assaulting, vibration and dust more abominable environments.