Gu Mei CM-GPRS wireless data transmission communication module Functions CM-GPRS such as long-range monitor test,etc.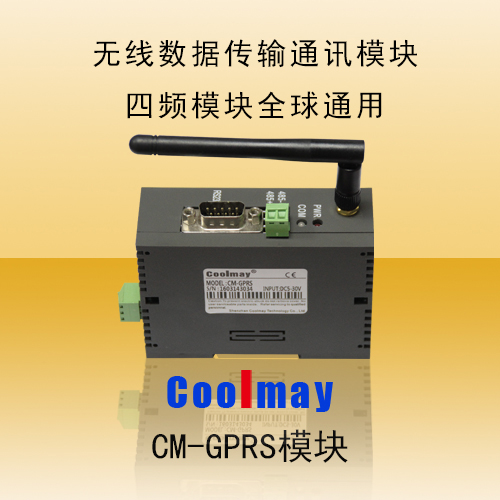 CM-GPRS adopts transparent Transport Protocol to combine with GPRS as the communication module of wireless data transmission, apply with our company PLC to the automated system together, realize automated system and GPRS network, wireless connections of GSM network. Through the programming software, carry on long-range programming to PLC and diagnose, realize the download function on the procedure; Meanwhile, the cellphone subscriber can realize control to PLC through SMS message service, CM-GPRS is especially suitable for the long-range application of controlling etc. of the distributed system.
Characteristic of the products
1,Four global and common module frequently, support UNICOM, move the intersection of GPRS and network, ordinary the intersection of Mobile and Carlos (the intersection of MICRO SIM and Carlos) Namely available;
2,Use the module of technical grade, the characteristic is steady, quality is guaranteed;
3,Support the module restart automatically when not having data transmission for a long time ' Set up small at 600 seconds in order to forbid and restart the function automatically) ;
4,Data transmission is opened transparent;
5,Interface of standard industry (RS-232/RS-485) ;
6,Support the lasting online mode, have re-dialing and heartbeat function of circuit break;
7,Support the local disposition;
8,Support message machine format receiving and dispatching, support the long-range message to set up the module parameter (message set up the parameter and support cryptographic authentication, prevent the disabled user from setting up parameter and rubbish message to interfere with) ,Support the intersection of the remote server and end set up the parameter ' Can open / close this function) .
Applicable field
Industrial control, remote sensing, remote measurement
Control in the computer lab of the unattended operation, warehouse
The pipe network is monitored
Data acquisition of the oil field, colliery and controlling
Failure diagnosis of the heavy-duty equipment
The others need application of wireless data transmission
Products parameter
Project
Index
Wireless parameter
There is no line standard
GSM/GPRS/EDGE
Standard frequency band
Frequently 850/900/1800/1900MHz four
Transmitted power
GSM900 class4(2W)
DCS1800 class1(1W)
GPRS Terminal Device
Class Class B
GPRS Multi-slot Class GPRS
Class 10
GPRS Coding Schemes
CS1- CS4
The aerial selects
I-PEX interface
Hardware parameter
Data interface
UART: 2400bps- 921600bps
Working voltage
DC 5- 30V
Working current
Average: 55mA- 90mA maximum: 750mA
Operating temperature
-25 ¡æ- 85 ¡æ
Store the temperature
-40 ¡æ- 125 ¡æ
Size
90* 60* 32mm
Software parameter
Wireless network type
GSM/GPRS/EDGE
Work pattern
The transparent mode of transmission, the transparent transmission mode of the message, HTTPD mode
Set up the order
AT + orders the structure
Network protocol
TCP/UDP/DNS/HTTP
The biggest TCP connects and counts
2
Users dispose
The AT command of the serial port, the network AT order, the message AT order




Contacts: Miss Du
Telephone: 860755-26051858
Fax: 860755-26400661
Email: [email protected]
Web site: http://www.coolmay.net
Address: The resurgence of south light path of Nanshan District is industrial city 1 605