IGBT driver K841 (totally compatible EXB841)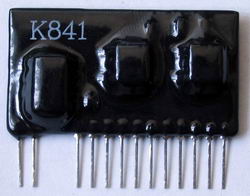 Brand: LMY
Name: IGBT driver K841 (totally compatible EXB841)
Type: EXB841
About products:
Tape blockade to pass, shed, protect function, export the electric current 6A
The products are detailed:
High-power IGBT module driver of the single-hose sharing.
Can use directly, can also regulate the time when was started again after time, soft speed, trouble that shuts off in the district very much according to the need according to the defaulting value.
The settlement of threshold value of emitter voltage of collection when IGBT shorts out can be finely regulated with the resistance, can also use the steady voltage tube to regulate.
Use the single power, there are negative pressure distributors within the driver, have reduced the external components and parts.
The power voltage can be among 20- 27V, users choose the range to be wide. The change of the power voltage has not influenced settlement of threshold value of flowing.