Majestic strong MPC-59GS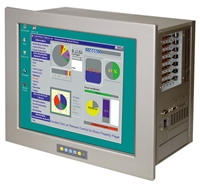 Brand: IEI – majestic reach the electricity
Name: Majestic strong MPC-59GS
Type: MPC-59GS
About products:
Mobile: 13618466396 Tel.: 0731-84587416 Fax: 0731-84587415QQ: 214390423 Postbox:
[email protected]
contact: Yellow flat B-810 of Cyber Port of collection of hundreds of computers of Middle Road of refined people in Changsha of the Guangxi Zhuang Autonomous Region
The products are detailed:
Characteristic of the products 1. The compactness press-casts aluminium and makes preceding board and integrated LCD backplate frame with the die
2. Available RS-232 interface touch-sensitive screen
3. Preceding board, membrane keyboard, touching the mouse pad and driving the space to accord with IP65 standard, make it adapt to abominable environment.
4. Exceed 300cd/m² High light and 50000hrs MTFB life-span is lasting
5. Advanced heat abstraction and ventilation are designed
6. The installation of panel / framework type is installed and supported
Product specification LCD size 19″ Resolution ratio 12801024 Luminance (cd / ㎡) 300 Contrast ratio 700:1 LCD color 16.2M Life-span (Hrs) in a poor light 50000 Slot 7 slots Main board specification The whole / half long card Install the way The installation of panel / 19 " Framework type is installed Preceding board material Aluminium IP grade IP65 OSD Yes Driver space of hard disk 1 x 3.5″ HDD CD-ROM driver space 1 x 5.25″ CD-ROM Driver space of floppy disk 1 x 3.5 FDD Systematic fan 8cm roller bearing 38 CFM fan Available touch-sensitive screen 5 – line resistance type touch-sensitive screen Resist and shake 5 ~ 17 Hz, 0.1″ Displacement 17~640 Hz of the whole amplitude,
Peak peak value of 1.5G acceleration Resist and assault Peak peak value of 10G acceleration (11ms) Relative humidity 5 to 95%, has not condensed Working temperature 0 to 50 degrees C Appearance color Silvery (PANTONE PMS-8001) Weight (NW/GW) 16.8 /20.5 kg Size (D W H) (mm) 483 x 399 x 240 Recommendation backplate PCI-7S
PE-6S
IP-7S
BP-7S
PCIAGP-6S
HPE-7S1
PE-7S / 7S2 / 10S Power AT: ACE-925A(AP/AP-U/M) -RS
ACE-932A-RS
ACE-935AL-RS
ACE-940AP-RS
ATX: ACE-4860AP-RS
ACE-828A(C/M/V) -RS
ACE-832A(AP/AP-S) -RS
ACE-840A-RS
ACE-841AP-S-RS
ACE-850AP-RS-24
Order information Name of product Description MPC-59GS / 832AP / T-R 19″ 300cd/m² SXGA TFT LCD Industrial Panel PC, Aluminum Front, Silver Color,W/ACE-832AP/19″ Touch Screen
Packing list 1 VGA Cable (P/N:32000-023200-RS) 1 Power Cable (P/N:32000-000002-RS) 1 Screw kits (P/N:19600-000132-RS) 1 RS-232 Cable / Touch Pen / Driver CD-ROM for Touch Screen (P/N:32000-025604-RS) 1 Panel Mounting kits (P/N:PK-104M,PK-170M,PK-190M) 1 User Manua (P/N:PK-104M,PK-170M,PK-190M)