Many agreements of industry gateway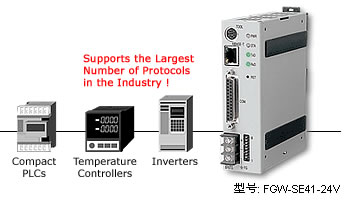 Industry's gateway function
Lower costs and raise system efficiency
Can also carry on preventive maintenance better besides the following six major functions.
PC application software popular in use that it can be very simple
Function 1
Data acquisition
Collect the production data and replay and analyze the data.
Function 2
Data transmission
Pass the production data gathered ADO, DDE, DLL, OPC, or SQL conveys to the public PC application software.
Use PC and Internet is controlled long-rangely
Function 3
Industry's gateway data
The simple and fast one controls the image data stored in the industry gateway long-rangely.
Function 4
Control long-rangely the multi-point through the Web server
Utilize Internet or Intranet to set up a monitor system.
Data sharing does not need programming
Function 5
Produce the data to share automatically
Can connect PLC that different producers produced without especially programming.
Function 6
GP/GLC controls and uses and gathers the production data from the on-the-spot control device.


Contacts: Market department
Telephone: 86021-63615175
Fax: 86021-63615176
Email: [email protected]
Web site: http://www.proface.com.cn
Address: Yanan East Road marine room of mansion 1110 No. 550 of Shanghai