Programmable controller FX2N-2AD of Mitsubishi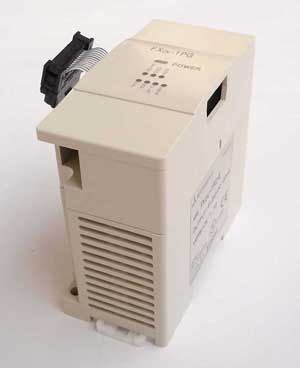 Brand: MITSUBISHI- Mitsubishi
Name: Programmable controller FX2N-2AD of Mitsubishi
Type: FX2N-2AD
About products:
Series FX1N are little PLC with very strong function, can expand to reaching 128 I/O more, and can increase the special function module or expansion board. Communication and data chaining function select to make FX1N perfect in important application such as volume, communication and special function module.
The products are detailed:
Mitsubishi PLC FX1N series PLC has the following characteristics:
1.Mitsubishi PLC integrating &'s high cost performance
CPU, power, Input/Output unite.
By using the display module and expansion board of the function, can carry on system upgrade very simply and conveniently.
In addition, can expand Input/Output and special module too.
2.Mitsubishi PLC fuselage is small and exquisite, high-speed computation
Basic instruction: 0.55-0.7¦Ì s / order
Employ the order: 3.7- count 100¦Ì s / order
3.Mitsubishi PLC settles down, well-to-do memorizer specification
8000 built-in step EEPROM memorizers
Do not need the battery, safeguard it easily
4.Mitsubishi PLC abundant soft component range
Supplementary relay: At 1536 o'clock, the timer: At 256 o'clock, the counter: 235 o'clock
Data register: 8000 o'clock
5.Mitsubishi PLC faces the products abroad and is suitable for various safe specifications
Control the scale: 14~128 o'clock
CPU operation processing rate 0.55~0.7¦Ì S / basic instruction
Expand module and special function module in the joinable Input/Output of FX1N series right side
Basic cell built-in 2 axle highest 100kHz make bit function (exporting type of transistor-resistor logic) independently
EEPROM memorizer of built-in 8K, do not need the battery, non-maintaining
Mitsubishi PLC, host computer unit FX1N:
It import FX1N-60MR-001 electrical relay, the 36th /the 24th exporting, alternating current
Import FX1N-40MR-001 electrical relay, the 24th /16 exporting, alternating current
Import FX1N-24MR-001 electrical relay, the 14th /the 10th exporting, alternating current
It import FX1N-14MR-001 electrical relay, the 8th /6 exporting, alternating current
Import FX1N-60MR-D electrical relay, the 36th /24 exporting, direct current
Import FX1N-40MR-D electrical relay, the 24th /exporting, direct current of the the 16th
It import FX1N-24MR-D electrical relay, the 14th /the 10th exporting, direct current
Import FX1N-60MT-001 crystal cast, the 36th /the 24th exporting, alternating current
FX1N-40MT-001 crystal cast, the 24th import /the 16th exporting, alternating current
FX1N-24MT-001 crystal be imported cast, the 14th /exporting, alternating current of the the 10th
Import FX1N-14MT-001 crystal cast, the 8th /exporting, alternating current of the the 6th
FX1N-60MT-D crystal cast, the 36th import /the 24th exporting, direct current
FX1N-40MT-D crystal cast, the 24th import /the 16th exporting, direct current
FX1N-24MT-D crystal be imported cast, the 14th /the 10th exporting, direct current
Mitsubishi PLC, FX1N special function module:
FX1N-1DA-BD a passway of analog quantity exported
FX1N-2AD-BD 2 passways of analog quantity input
FX1N-2EYT-BD expansion board, crystal cast, exporting at 2 o'clock
FX1N-4EX-BD expansion board, inputting at 4 o'clock
FX1N-8AV-BD hand copying type inputs the faceplate, applicable FX1N
Series FX1N-232-BD RS-232 A passway
Series FX1N-422-BD RS-422 A passway
Series FX1N-485-BD RS-485 A passway
FX1N-CNV-BD FX0N changes the unit interface
FX1N-EEPROM-8L PLC procedure conversion module
Mitsubishi PLC, special unit FX2N-4AD-TC 4 passways of thermocouple load modules FX1N
FX1N-232-BD RS-232C serial port (single channel) Control module of FX2N-2LC 2 passways of temperatures
FX1N-485-BD RS-485C serial port (single channel) FX2N-5A 4 passways of AD, a passway DA
FX1N-4222-BD RS-422C serial port (single channel) FX2N-1HC a passway of high-speed counters
FX1N-8AV-BD simulation potentiometer 8 imports the passway of module 1 of module FX2N-232IF RS-232 communication
FX1N-CNV-BD FX0N module changes unit FX2N-IPG-E a channel pulse output module
FX1N-4EX-BD 4INPUTS inputs and expands the board FX2N-10PG-E pulse output module (1CH-1MHz)
FX1N-2EYT-BD transistor-resistor logic export expand 1 axle, FX2N-10GM of board, position the module 2 o'clock
FX1N-2AD-BD 2 passway A/D FX2N-20GM 2 axle positions the module
A passway A/D E-20TP-E-SETO Coder of FX1N-1DA-BD
SC-09 FX series connect line SC-09 Mitsubishi PLC programming cable with computer
FX1N-EEPROM-8L PLC program conversioprogram translation unit FX2N-16CCL-M computer connects module with communication
FX2N-32CCL computer connects module with communication