Servo driver +400W electrical machinery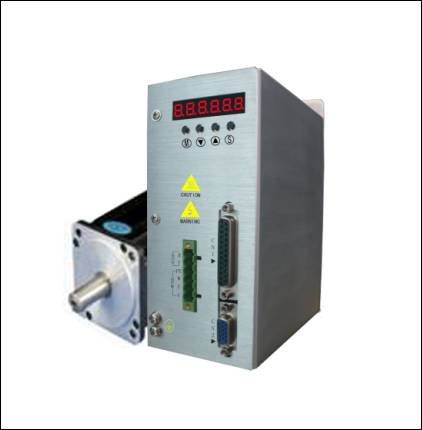 Brand: Danfoss – Sri Lankan of Denver
Name: Servo driver +400W electrical machinery
Type: DSD10
About products:
Servo driver this right to mix power as from 100W to the intersection of 1KW and electrical machinery
The products are detailed:
The control method is switched over
The position control, control of speed, force moment control these three kinds of control forms to be united, can switch over in sports.

Harmonic countermeasure once that the power is high
Standard equip have DC grip, flow circle connect the intersection of end and son, spend as the intersection of power and high times of harmonic countermeasure.

6 reveal LED, dispose and operate the keyboard
Can presume or control conveniently at the scene. Can carry on the parameter to alter, control the device and calls the police and chase the adjustment of the mark etc. with the built-in operation keyboard.

Reduce and shake and control
Utilize the feedforward to reduce and shake and control, can inhibit the vibration of the mechanical front and vibration of framework by simple adjustment. Meanwhile, can presume and choose to use 4 kinds of frequency used for controlling and is shaken.

Exactly fix time after shortening the localization
Through adopting the new algorithm, can shorten the localization of the device to exactly book time greatly.

The order is followed the trail of and inhibited
Adopt new position and algorithm, can make the position suppress tracking twice that ability raised the existing model, and, can basically realize a position offsets.

Test run function ' Move the function a little)
Carry one that can confirm the motor is connected with the amplifier and move the function a little, needn't connect with getting on the location device, can carry on the running-in.

Input and output signal name and function
Input signal
Signal name
Function +24VIN The order signal is by controlling the power to import: +24V power prepared by users.
The voltage range that can act: +11V – +25V
SON Servo ON inputs, after being effective, 50ms receives and controls the order INH The order pulse is forbidden. FSTP It is forbidden to rotate clockwise and drive RSTP It is forbidden to overturn and drive ALR Call the police and remove: Remove the servo warning state. CLR The zero clearing signal is input: At the time of position control, remove skew to count. RIL Walking around on the outside of square and exercising restraint in inputting FIL Walk around on the outside of square and exercise restraint in inputting instead VIN The speed order is input: ± 10V. TIN The torque order is imported: ± 10V. CZ+
CZ-
Can programme and export. /PULS
PULS
/SIGN
SIGN
The order pulse is input, the photosensitive resister separates Input mode
Symbol + pulse row
CCW/CW pulse
Output signals
Signal name
Function
COIN-
COIN+
Making a reservation finishes signals to export, when the letter is put to offset the localization range that the counter number value is being presumed, make a reservation and finish exporting ON ALM+
ALM- Call the police and export RDY+
RDY- Get ready to export while being servo BRK+
BRK- The brake is exported PAO+
PAO-
PBO+
PBO-
PCO+
PCO-
A looks signal
B looks signal
C looks signal
2 phase pulses (A looks, B looks) Change the encoder and output signal and origin pulse (C looks) Signal FG If will input, output signals to couple to outer cover of connector with the shielding line of the cable, can be connected to the earth connection of frame. (ground wire)