Shanghai produces GCS hand grip GCS hand grip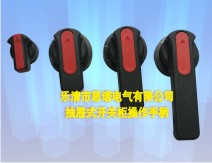 Electric Co., Ltd. of the promise is a generalized type enterprise incorporating designing, developing, producing, selling into an organic whole that Leqing thinks. Rely on products and high-quality service of its high cost performance and become glitter new stars of the electric trade, staples produced is now as follows in the company Multi-functional electric instrument, high-low voltage switch cabinet, European tank transformer, American tank transformer, electric capacity compensating device, cable branch box, dc screen, high voltage breaker, high voltage isolating switch, high-pressure vacuum contactor, unexplosive electric apparatus, electrical apparatus element, wait for the products.
The company apparatus is advanced, detection means is complete, talent capacity is rich, independent innovation ability is strong, have established the quality foundation of the promise products really up to the mark of thinking
The company insists all the time " based on sincerity, the quality first " Corporate culture,market-oriented, products and the after services of completions which offer to customer more high-qualities diversified. It is the national electric cause that does greater contribution.


Contacts: Zhao SiXuan
Telephone: 860577-27863981
Fax: 860577-27863982
Email: [email protected]
Web site: http://www.cnsinuo.com
Address: Heart industrial area of city of willow of Wenzhou