Shenzhen Take care of the American EX2N-50A text PLC integrated machine EX2N-50A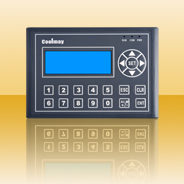 The intersection of switch and quantity 24 enter 20 at most, analog quantity 12 enter 8 at most
Among them No. 4 is input and 2 routes are outputted is that analog quantity and switch amount are available
Analog quantity inputs the polymorphic type availably, export 0-10V, 0-20MA or phenotype
The programming mouth RS232, available holds RS485 mouth
The software for editing of text uses " software for editing of COOLMAY_50A text ", PLC compatible Mitsubishi PLC programming software
Communication interface: 232 times of 1 self-carrying, available to hold 1 485 times, 1 232 or 2 485 times
Type specification:
EX2N-50A-10/16/20/24/30/32/38/40/44MT/MR/MRT(-12AD8DA)
Reveal the size: 108*56mm
Physical dimension: 212*148*40mm
Trepan the size: 194*138mm
EX2N-50A is the upgrading products of the integrated machine of the text, it controls and integrates PLC and text perfectly in an outer cover, help customer's installation safeguard and reduce customer's use and maintenance cost greatly.
This machine adopts the single programming mouth, text and PLC share a 232 programming programming once, among them some programming of text adopts " software for editing of COOLMAY_500A text ", PLC programming compatible Mitsubishi PLC programming software. PLC function is the same as software and EX2N/DX2N series PLC.
1,Characteristic of the products
Logic control, analog quantity Input/Output ( Available) , the text is shown in an organic whole
PLC can be encrypted specially, arrange the password 12345678, will forbid reading
Text and PLC share programming programming once of one RS232, it is more convenient to use
Can select to hold one 485 times, can support MODBU communication protocol, programming an agreement and freedom agreement of Mitsubishi, but network connection a plurality of PLC or other apparatuses
LCD reveals: 240* 128 picture element; LCD life-span can up to 2 hour Wan. The routine is rejected for being blue, the dust is rejected and yellowish green and rejected availably
The memory capacity of the picture is 256KB FlashROM
There are 19 function keys, the function can be appointed freely
All adopt the pluggable terminal, help customers install and safeguard
Flexible in usage, can customize according to the request of customer
The appearance is fashionable, the volume is small and exquisite, the saving in space
2,The type is named
EX2N- 50A- 10/16/20/24/30/32/38/40/44MT/MR/MRT – 12AD 8DA – EK/PT/NTC/A4/A0/V-V/A0-2C-5P-485
123 4 5678 9 10 11
1: Serial names series EX2N-50A, represent 50A text PLC integrated machine
2: Display unit type 50A: It is 240*128 to represent the display rejected
3: Input/Output point several 10: 5 enters 5, 1 6: 8 enters 8, 24: 12 enters 12,etc.
4: Export the type The transistor-resistor logic exports MR: The electrical relay exports MRT: The electrical relay transistor-resistor logics mix and export 5: Analog quantity is input 2/4/8/12 Available
6: Analog quantity is exported 0-10V / 0-20mA of No. 8
7: Analog quantity inputs type EK: Hot couple PT: PT100
NTC: Thermal resistor (10K/50K/100K) V: 0-10V
A4: 4-20mA electric current A0: 0-20mA
8: Analog quantity exports type A0: 0-20MA V: 0-10V voltage
9: Count and count 100K high speed counting and high-speed pulse input at a high speed, need especially proving
10: High-speed pulse 200K high-speed pulse is available at most hold No. 5
11: Analog quantity and 485 can select to hold according to the request of customer. Other special specifications can also be especially made to order according to customer's request
3,Basic parameter
General specification
Project
Specification
Electric characteristic
Input voltage
DC24V
Power consumption
5W
Allow the black out of the instant
Smaller than 20ms
Withstand voltage
AC1000V-10mA 1 minute (among signal and ground)
Insulating impedance
About 10M¦¸, DC500V (among signal and ground)
Environment
Operating temperature
-20~60 ¡æ
Keep the temperature
-10~60 ¡æ
Ambient humidity
20 – 85 % RH (not condense)
Structure
Cooling way
Air-cooled naturally
External dimension
212* 148* 40
The faceplate trepans the size
194* 138
Interface
Download the mouth
RS232
Communication port 1
RS485 selects to hold
PLC characteristic
Host computer characteristic
Multi-input the most of digital quantity
The 24 point most more
The electrical relay is exported
The 18 point most more
The transistor-resistor logic is exported
The 20 point most more
Analog quantity / temperature is input
The 12 point most more
Analog quantity is exported
The 8 point most more
Procedure space ( Keep permanently)
8000 steps
Numerical filtering time of input aperture
0mS to 60mS is adjustable
Implement speed of the basic instruction
0.08uS
Input the index into ' Figure)
Isolate the way
Photocoupling
Rated input
10 mA
Logical one ( Minimum)
4.5mA
0 more ' Maximum)
1.5 mA
Input the index into ' Simulation)
Input signal range
7 kinds
Response time
1 scanning period
Overall precision
¡À 1% (scale span)
Output the index ' Electrical relay)
The electric current is supported
Maximum 5A
Contact the life-span ' Load rating)
300,000 times
Output the index ' Transistor-resistor logic)
The electric current is supported
Maximum 500MA
4,Appearance and installation Size
The relevant video is explained:
The text PLC integrated machine uses and explains


Contacts: Miss Du
Telephone: 860755-26051858
Fax: 860755-26400661
Email: [email protected]
Web site: http://www.coolmay.net
Address: The resurgence of south light path of Nanshan District is industrial city 1 605