Solar energy street lamp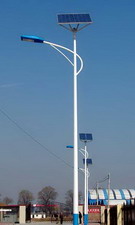 Brand: Xin WeiHong
Name: Solar energy street lamp
Type:
About products:
The road lighting system of solar energy: Solar energy street lamp, solar energy courtyard light, solar energy lawn light
The products are detailed:

The road lighting system of solar energy, the street lamp illumination of solar energy is introduced systematically:
This system regards sunlight as the energy, charges in the daytime, uses in the evening, does not need the complicated and expensive pipeline to lay, but adjust the overall arrangements of the lamps and lanterns arbitrarily, safe energy-conservation is pollution-free, charge and turn on / close the course and adopt intellectual control, automatic switch, does not need manual working, it is stable and reliable to work, save the electric rate, non-maintaining, suitable for road lighting and ornamental, etc of public place such as residential quarter, villa, park, square. Appearance design adopts the lamps and lanterns that materials such as the metal, engineering plastics,etc. press-cast and become, the model is novel, elegant in appearance, succinct and lucid and lively. The lamp pole is durable in use after gushing out and moulding etc. and anti-corrosions and deals with in spraying, melt appreciative value, practicability and an organic whole.
Operation principle:
The sunlight shines to the electric current that the polar plate of solar cell produces to charge the storage battery through the controller, the electricity of the storage battery turns into direct current for using the electric apparatus through the controller ' Support) Use, or turn into alternating current for load to use through going against the becoming device. The solar energy only bends over the system by the solar energy panel ' Group) , solar energy controller, storage battery( Group) Make up, also need disposing in order to exchange 220V or 110V and go against the becoming device such as exporting the power. When the system engineering is designed specifically, should consider the following several factors: 1, Support ' Use the electric apparatus) Real to be total for power for and duration,should reserve by time that system work normally more; 2,Local valid sunshine time; 3,Local meteorological materials, the situation such as being for instance overcast and rainy continuously; 4,Building the systematic place must be widened, there can't be tall and big building or other things to block the sunshine to install the square matrix of the solar cell;