Supply Panasonic's electrician series PLC FP2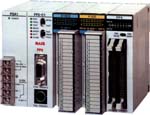 Brand: Panasonic – Panasonic
Name: Supply Panasonic's electrician series PLC FP2
Type: FP2
About products:
Have realized the high-speed treatment high-performance mode
The products are detailed:
1. Most suitable for carrying on remote control to the multi-point I/O! A maximum of main website can be expanded until 2048 o'clock. (Can't carry simulation I/O. ) 2. Position control, remote control of common serial communication! Can carry figure unit I/0, control unit and common serial communication unit in the position on the motherboard that the substation unit carries. In addition can carry unit S-LINK, can connect mixing the collinear system engineering in the random position sparingly of I/O machines such as the sensor,etc.