Supply the AB-FlexLogix series programmable controller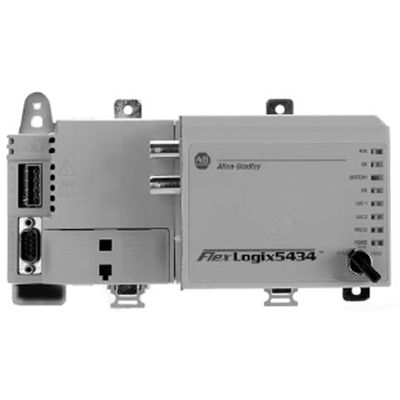 Brand: ROCKWELL – Rockwell (AB)
Name: Supply the AB-FlexLogix series programmable controller
Type: 1794-L34
About products:
FlexLogix system has offered the decentralized control method for industrial control. Not only I/O clicks and can be dispersed to the sensor / carried out the adjacent place of the device, the processor can also be dispersed to partial Flex, Flex Ex, above Flex integrated I/O module, the miscellaneous I/O module of remote control. FlexLogix processor can be connected with network, is used for distributed process and distributed I/O
The products are detailed:
FlexLogix/1794
Systematic summary
FlexLogix system has offered the decentralized control method for industrial control. Not merely I/O can be dispersed to click to the sensor / carried out
Near the device, the processor can also be dispersed to partial Flex, Flex Ex, above Flex integrated I/O module, remote control is miscellaneous
I/O module. FlexLogix processor can be connected with network, is used for distributed process and distributed I/O.
FlexLogix system is a part of Logix platform and integrated framework of Rockwell's automation, mean your all right maximum
The intensity utilizes controlling integrating, the procedure puts in an position, the communication is flexible, easy to use, so you do not need to cost a lot of money energy is being set up,
Operate and safeguard.
Because it has Logix to control the engine, FlexLogix processor finish sequence control, motion control, course at the same time
Control and drive control. FlexLogix processor has the same programming method like miscellaneous Logix processor, I/O
Disposition. 1793,1794 and 1797 FLEX I/O products have offered the extensive figure / simulation I/O module (including intellectual I/O)
Module, can form the firm module association.
Advantage:
Modularization: I/O, the modularization of the interface of communication, it is apt to mix the system of the easily expandable to offer one. You can block according to your required I/O point size,
Memory quantity, the network configuration system of the communication, then, when needing expanding, only needs to increase I/O or communication module.
Heat plugs the function: Any 1794FLEX I/O module, can load and unload during power up of bottom panel, will not influence other module in the system
Operation,so can while running, it is change in keeping system parts other by trouble module not to mention.
The communication is high-efficient: Very arbitrary in the network, transmit the data among the networks, can also pass the communication among the module of the slab.
Adapt to the industrial environment: The firm hardware platform can bear the vibrations, high temperature, electric interference in the abominable industrial environment.
Design the compactness: Can put the processor, I/O module near the sensor / actuator in the space of definite cupboards, finish the local apparatus
The craft is controlled.
Distributed process: Can connect the processor with as being integrative finishing distributed process through ControlNet network.
Distributed I/O: Can realize the control of long-range I/O through ControlNet.
IEC-1131 compatible operating system: Offer environment of a genuine mulitasking of taking the lead, let you plan the software module respectively, full
The foot employs the requirement, raise the processor service efficiency.
Function design:
FlexLogix processor built-in 64K or 512K user's memory. The addressable maximum of each FlexLogix processor amounts to 256
Point I/O. Each processor, with FlEX I/O module ( 1794) Compatible, no matter I/O or expanded local I/O on the processor
Can all. Meddle in a communication card and get on the processor, I/O that can increase one scans the mouth, finish far through ControlNet
Control of I/O Cheng.
Mechanical design:
It adopt FlexLogix / FlEX I/O platform flexible modularizations compact install to design, it can place by apparatus sensors technological on /
Nearby of actuator, the not like rack mounting slab, the length of the slab only relates to I/O module quantity of installation. FlexLogix
Processor or all extendible 1794 I/O module of 1794 I/O adapter.
As to 1794 FlEX I/O, installation is modularized very much. The slab is that the terminal strip of the module made up, offered I/O interstar connection at the same time
Connect endpoint. I/O circuit is in I/O module separately. Each I/O module is inserted into their own terminal strips.
1794 FLEX I/O module, maximum 32 available I/O. But install 8 in a FlexLogix processor maximum
Ground I/O, it can increase 8 pieces of FlEX I/O module within the range of 3 feet of processor through expanding I/O adapter. Dealing with
Insert I/O and scan the communication card on the device, I/O that but it is more to distribute long-rangely clicks.
FlexLogix processor and built-in power of FLEX I/O adapter, can transfer 24VDC power to 5VDC, it is the slab
Power supply. Can also choose the independent 120/230VAC to 24VDC power.
All systematic module can be installed with DIN guide rail, FlexLogix processor, 1794 FLEX I/O module can also be carried
The board installs.
Communication:
FlexLogix processor and installs in its right hand 1794 I/O module communication (maximum 8 I/Os through the module slab
Module) . Each FlexLogix processor and a built-in RS-232 communication interface (DF1 agreement) ,Built-in to expand local I/O
Communication interface, 8 pieces of 1794 FlEX I/O module of extendible maximum. You can also increase and expand long-range I/O through ControlNet. Except that the intersection of FlexLogix and Built-in: port at the processor, can also the intersection of apolegamy and first the intersection of communication and Carlos insert the processor module in, set up the new one
ControlNet communication. ControlNet adapter module (1794 – ACN15, – ACNR15) of 1794 I/O ,DeviceNet
Adapter module( 1794-AND) ,Here expands the module ' 1794-FLA) And common long-range I/O expands the module (1794- ASB,
-ASB2) Can all be regarded as and expanded I/O apolegamy. I/O adapter module connects interface with I/O module through I/O, through sweeping
Copy mouth and long-range processor communication. And ControlNet it expands local I/O to be compatible with FlexLogix processor in adapter only.
The system makes up:
A FlexLogix system, is made up of processor module and 1794 FLEX I/O module of a built-in power at least,
The terminal strip base is installed on DIN guide rail side by side, form the convertible slab of the length. Maximum is made up and can be increased to 8 pieces of I/O module.
You can increase a local I/O and expand the adapter (1794 – FLA) ,Pair 8 piece ( Series 1794) I/O module installed in side by side
In processor cable range of 3 feet. FlexLogix processor module expands I/O mouth built-in here. Can insert on the processor
ControlNet communication card (1788 – CNC, – CNCR) ,Increase the scanning device port of one ControlNet. The typical disposition is lifting
In the example, this mouth inserts the processor ControlNet to connect. In shelf of two long run groups I/O, 1794 – ACN15 I/O is right
Have orchestrated and offered ControlNet connecting interface. While disposing here, FlexLogix processor controls local I/O, expands here
I/O, and long-range I/O.
Though, 1797 FLEX Ex I/O module (miscellaneous I/O) Module, can be regarded as long-range I/O and passed ControlNet
Connect compatible with FlexLogix processor, can't regard as the intersection of FlexLogix and local I/O of processor. 1793 FLEX
Integra I/O module neither does local I/O of FlexLogix, can't connect as expanding long-rangely through I/O communication either.
FlexLogix dealing with device, the built-in power requirement 24VDC for FLEX I/O adapter is input, and transfer to 5VDC and carry
The power of board, supplies power for processor, adapter and I/O module connected. Independent power package (1794 – PS3, 1794 – PS13) Can
120/230VAC transfers to 24VDC.
Already there is a communication interface according to the particular FlexLogix control system, you can choose to operate the interface ( RS232, ControlNet) .
See and operate interfaces, obtain open compatibility and correlation parameter information.
FlexLogix processor 1794 – L33, – L34
Always general:
FlexLogix processor module, available 64K or 512K bytes user's memory. Because there is Logix that controls the engine,
FlexLogix processor can finish sequence control, motion control, proceeding control and drive control. Programming, I/O configuration with its
His Logix processor is the same.
Multitasking operation system, supporting 8 can set up the task, according to the applied requirement, presume different priority. One is serial
The task, other tasks must be regular tasks. Each task reaches the procedure of 32, local data, ladder-shaped logic independently, but
Among them in the same treatment, the virtual apparatus emerges to run independently.
The symbol addresses ' Accord with IEC1131-3) ,You can be named according to the machine format use, are independent of the hardware. Can establish canonially
The subroutine, the code is paid most attention to in a plurality of apparatuses and application. User's self-defining data organization and array, allow the structuring of the data, accord with
Employ the requirement. RSLogix5000 supports entire programming and arrangement.
FlexLogix processor, through network and computer, distributed course, distributed I/O links up. FlexLogix processor
Can control I/O connected to in 1794 slabs and I/O to click. FlexLogix processor can pass RS-232-C (DF1 agreement) And
ControlNet network and computer or other processor communication. Want, set up the intersection of ControlNet and communication, need the interface card of communication only
Insert any into two slots in the processor module.
Characteristic:
Addressing of symbolism
The processor of simple material benefit, have extensive ability, for example, material handling in processaable, HVAC controls, assembles
Operate, small proceeding control, and SCADA application.
Multitasking operation system of optimizing of priority.
The advanced instruction set includes, document handling, obey the controller, diagnose, the shift register, program control, motion control.
Can plan I/O data transmission
Recommend some total number, I/O of maximum, less than 256 o'clock
Many kinds of digital quantity, analog quantity I/O available, intellectual the intersection of I/O and module, cooperate in I/O module that the supplier offered.
Each FlexLogix processor has RS-232-C mouths, are used for the communication among programming and processor.
Increasing 1788 – CNC or 1788 – CNCR ControlNet I/O scans the communication card, can set up ControlNet communication
And order ControlNet I/O (1756-,1771-,1794-,1797-,etc. I/O module) .
Type:
1794-L34
1794-ACN15
1794-ACN15K
1794-ACNR15
1794-ADN
1794-ADNK
1794-ASB
1794-ASB2
1794-ASBK
1794-FLA
1794-IA16
1794-IA8
1794-IA8K
1794-IB10XOB6
1794-IB16
1794-IB16D
1794-IB16K
1794-IB16XOB16P
1794-IB32
1794-IB8
1794-IC16
1794-IJ2K
1794-IM8
1794-IV16
1794-OA16
1794-OA8
1794-OA8I
1794-OA8K
1794-OB16
1794-OB16D
1794-OB16P
1794-OB16PK
1794-OB32P
1794-OB8
1794-OB8EP
1794-OB8EPK
1794-OC16
1794-OM8
1794-OV16
1794-OV16P
1794-OW8
1794-OW8K
1794-IE12
1794-IE4XOE2
1794-IE8
1794-IE8H
1794-IE8K
1794-IE8XOE4
1794-IF2XOF2I
1794-IF4I
1794-IR8
1794-IRT8
1794-IRT8K
1794-IT8
1794-OE12
1794-OE4
1794-OE4K
1794-OE8H
1794-OF4I
1794-ID2
1794-IJ2
1794-IP4
1794-VHSC
1794-TB2
1794-TB3
1794-TB32
1794-TB32S
1794-TB37DS
1794-TB37EXD4CM8
1794-TB37EXD4VM8
1794-TB3G
1794-TB3GK
1794-TB3GS
1794-TB3K
1794-TB3S
1794-TB3T
1794-TB3TS
1794-TB62DS
1794-TB62EXD4X15
1794-TBDSJMPR
1794-TBKD
1794-TBN
1794-TBNF
1794-TBNK
1788-CNC
1788-CNCR
1788-CNF
1788-CNFR
1788-DNBO
1788-ENBT
1794-PS13
1794-PS3
1794-CE1
1794-CE3
1756-BA1
1794D-PALEN
1794-IV32
1794-OV32
1794-IG16
1794-OG16
1794-IM16
1794-OM16
1794-IH16
Contact details:
Tel.: 010-51282250 Fax: 010-51282270 Mobile: 13366875311 QQ: 1019973461
Contact: Fu LiRan