The frequency converter counts and shows the table series GF of the frequency specializedly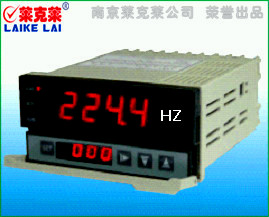 Brand: Rec fields lying fallow in rotation
Name: The frequency converter counts and shows the table series GF of the frequency specializedly
Type: GF-400-220V-A
About products:
The frequency converter counts and shows the table series GF of the frequency specializedly
The products are detailed:
The frequency converter counts and shows the table series GF of the frequency specializedly
Characteristic
Full range reveals: 0-9999
Any full scale is adjusted
Red digital tube 0.56
Appearance size 48H 96W
Input signal 0-5V, 0-10V, 4-20mA
Power 95V-245V of freedom
It exports and turns into and sends 4-20mA that available
Available RS485
A technical parameter:
Input way
Single-end is input
A/D changes
Double total mark
Measure the speed
About 2.5 times / second
Response time
0. 25sec
Display mode
Red number is in charge of RedLED (14.2mmH)
Change and send off exporting
4-20mA0.5%R.D± 3Digital
Turn into giving the range
Measure and presume between the ranges arbitrarily
Control and export
Upper and lower limit alarm relays are exported (2A/250V)
Working power
AC110V/220V50Hz/60Hz
Consumption
Less than or equal to 1.5VA
Able to bear pressing
AC15001min
Insulating resistance
DC500V> 50MΩ
Frequency range
45Hz~400Hz
Second, products connection diagram: (Note: Please carry on wiring according to the wiring diagram of the instrument at the time of wiring. )
Third, the appearance and one mo of hole size:
Fourth, menu function are operated:
1,Upper and lower limit number values are presumed
2,Regulate menus
Fifth, use and keep attentive matters:
1,Before using, the instrument needed to energize and gave heat 15 minutes.
2,Suitable for using the ambient temperature 0 +40 ℃, under 85% of relative humidity.
3,It is one year that this instrument regulates the time interval.
4,If the input signal follows high frequency to interfere with, use the high-frequency filter in should be online.
5,It should not be too long to input the wire. Examine into signal output end and instrument distance unable to shorten, please use pair entangle, shield line,
The shielding layer links with low end of signal.
6,If preserve and has not used for a long time, please energize once every three months, energize time for no less than 4 hours.
The remarkable quality of producing of honor of electrical engineering Co., Ltd. of Rec fields lying fallow in rotation in Nanjing is served diligently