The health is able to bear Germany RS232 to transfer to the network module C2000 E1M0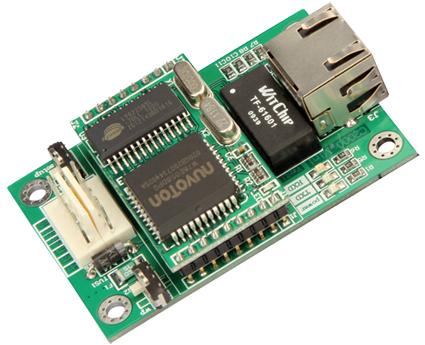 The Model Mini TTL/RS232 serial port is transferred to TCP/IP module ( 10M)

Characteristic:

Have five kinds of modes of operation such as TCP Server, TCP Client, UDP, fictitious serial port, point-to-point connection;
Users are based on the network software, can be with C2000 E1M0 communication without doing any modification;
Through the fictitious serial port software that we offered free of installation, users can be with C2000 E1M0 communication without doing any modification because of a bunch of oral software;
For needing to develop the users of the software, we offer the dynamic storehouse of the communication, controlling part of dynamic storehouse of arrangement or OCX free;
Carry on parameter setting through the browser, arrangement software or dynamic storehouse of arrangement;
The low consumption is designed, does not need the heat dissipating double-fuselage;
One pair of watchdogs designs, stability is high.
---
Sum up:

C2000 E1M0 have high cost performance and stable and reliable serial port apparatus embedded to network the module, it is transmitted that it is transparent to RS-232 and TTL serial port data to TCP/IP network and TCP/IP network that it offers RS-232 and TTL serial port, it can enable the apparatus immediately
Possess the function of linking TCP/IP network.
C2000 E1M0 offers 10M Ethernet interface up, offers a standard RS-232 and TTL serial port downward, the communication parameter can be set up through many kinds of installing modes. C2000 E1M0 can be applied to PLC and controlled and accused of with management, entrance guard's medical treatment, building extensively
Make, industrial automation, measuring instrument and environmental power monitor system, infromation household appliances, LED information display equipment and CNC and manage etc..
---
Technical parameter:

System
CPU 8-bit MCU
RAM 32KB
Flash 32KB

LAN
Ethernet 10Mbps

Serial port
TTL/RS232 TXD, RXD, RTS, CTS, GND

Serial port communication parameter
Check-up None, Even, Odd, Mark, Space
Data bit 8
Stop bit 1, 2
Flow into and control RTS/CTS, XON/XOFF, None
Speed 1200bps~115200bps

Software characteristic
Agreement ARP, IP, ICMP, TCP, UDP, DHCP, HTTP
Working mode TCP Server, TCP Client, UDP, fictitious serial port, point-to-point connection
Set up way C2000 and set up the procedure, Web browser, sets up the dynamic storehouse, serial port to set up ( availably)
Function software Software of fictitious serial port, C2000 set up procedure, serial port debugging tool, network test procedure, EDSockServer.OCX and
The example codes of EDSockServer.DLL, arrangement dynamic storehouse and VB, VC, BC, Delphi
Drive and support Windows 98 / ME/2000/XP/2003/Vista/Windows 7

Power demand
Working voltage 5VDC, ¡À 5%
Working current Smaller than 100mA

Work environment
Operating temperature From 0 ¡æ to 70 ¡æ
Store the temperature -From 60 ¡æ to 125 ¡æ
Working humidity 5~95% RH no condensation

Other
Size 67mm* 45mm
Guarantee period One year


Contacts: Mr. Mao
Telephone: 860755-83977900
Fax: 86
Email: [email protected]
Web site:
Address: Strong market 3B32 of safety protection of North Pacific of China of Feitian district of Shenzhen