The intersection of Shenzhen and Mei – the intersection of coolmay MT6100H and the intersection of real color and the intersection of touch-sensitive screen and the intersection of Shenzhen and Mei – the intersection of coolmay and the intersection of real color and touch-sensitive screen Gu Gu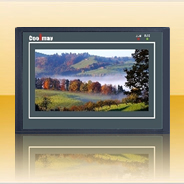 Reveal: 60,000 real colors 10. 2″ TFT liquid crystal screen, 800*480 picture element
Luminance: 450cd/m2
Power consumption: 8W
Communication interface: 232 times of 1 self-carrying, 485 times of one, a touch-sensitive screen downloads the port, one USB mouth
USB downloads the mouth: Yes
The memory 64M of the touch-sensitive screen, support U one to store, support WINCE system, available to hold net mouth and audio frequency
Reveal the size: 222*133mm
Physical dimension: 275*194*36mm
Trepan the size: 261*180mm
Programming software: <>
The detailed materials are consulted: <>
Have already supported PLC of storing and every manufacturer in the future
We support the following manufacturers, PS, Omron, Siemens, Mitsubish, ModBus RTU, ModBus ASCII, LG,
Over 20 kinds of different factory traders PLC such as Delta, Telemecanique, Matsushita. As to new PLC, we will offer correspondent communication agreement for you to upgrade on websites at any time too ( names or description and trade marks of every manufacturer that this text mentions, it is all every manufacturers) .
Convenient operation and communication are huge to collect the order
Utilize operation hugely to collect and help PLC and deal with the complicated operation function, and cooperate with the communication to be huge and collect the order, the user can write the communication agreement by oneself, is connected to particular system through COM Port.
Use USB to download the procedure fast
Utilize USB Ver1.1/2.0 download, will shorten downloading time greatly.
Can support two PLCs at the same time
Can support two pieces of communication port, but two control devices of different or the same communication agreements of simultaneous connection at the same time.
Off lining analogue function
After editor finish, can use PC (connection controller) directly Is it correct to imitate man-machine movements.
Online analogue function
After the editor finishes, is it correct to use PC connection controller to imitate man-machine movements directly.
Communication port of the Ethernet
10/100BASE-T offers the fast information exchange function, any TP can all set up the network and carry on the remote control of the polymerization. Can also upload the engineering data within short time with the Ethernet.
SD card backup materials
Utilize the intersection of SD and card come the intersection of backup and materials, or with the intersection of SD and materials inside the card, come, open another set man-machine, after opening, and then burn the materials inside FLASH, download does not need to come with PC in such same materials. Historical materials and alarm message can also from unloading to the intersection of SD and Carlos, the user can make use of card reader to read this materials for sorting out and printing.
Multiple security function
Offer guarantee procedure artificers' intellectual property right of functions of cryptographic protection to offer the component usufruct password function in the picture at the same time, only user's authority level is equal to or higher than the state of this assembly, the user can use this component.


Contacts: Miss Du
Telephone: 860755-26051858
Fax: 860755-26400661
Email: [email protected]
Web site: http://www.coolmay.net
Address: The resurgence of south light path of Nanshan District is industrial city 1 605