The treasure achieves the source KVM-BC1501 Switching over device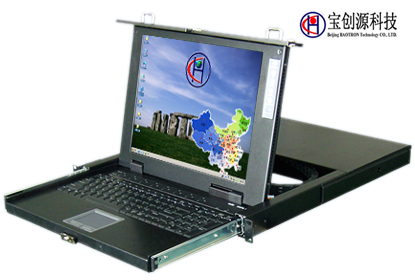 Brand: The treasure achieves the source
Name: The treasure achieves the source KVM-BC1501 Switching over device
Type: KVM-BC1501
About products:
The treasure achieves the source KVM-BC1501 Switching over device
The products are detailed:
Products brand: The treasure achieves the source
The type of the products: KVM-BC1501
Product specification: KVM controls the platform
The description of products:
>Collect 15 " The LCD / standard keyboard / TouchPAD touches the mouse
>Standard 19 " Put the structure on the shelf, the height is exactly combined into standard 1U, saves more than 85% of the cabinet spaces
>Support Windows, many kinds of systems such as NT, UNIX, LINUX, NOVELL, DOS
>Support original packaging server models such as IBM, COMPAQ, HP, DELL, SUN, Lenovo,etc. and grind China,
Ling Hua, accusing of creating, majestic reaching, Ai Xun, CRESUN,etc. accusing of machine of all kinds of workers.


Technical parameter:
System
Keyboard (available 88 keys of note-book keyboards)
105 key
Compatible IBM/AT supports Windows 9X/Me/NT/2000/XP
Interface: PS/2
Use the life-span & gt; 10,000,000 times
Mouse Touch the board (available orbit ball mouse)
X/Y resolution ratio
> It click 1000 /inch,(40 pieces / mm)
The interface of the hardware: PS/2
Very compatible operating system: Support Microsoft Windows 9 /Me/NT/2000/XP
Use the life-span & gt; 1,000,000 times
Line interface of the signal 15 – pin Mini is connected ( trinitily)
The connecting wire interface of the computer: A piece of 6 stitches of foot Mini-Din common very beginning;
A piece of 6 stitches of foot Mini-Din common very beginning;
A piece of 15 stitches of foot HDB common very beginning
KVM connecting wire interface: 15 stitches have foot HDB mother's head
Power Input the voltage Output voltage Export the electric current Output power Efficiency Total percentage modulation Frequency
100- 240V 12V 4A 48W 85% ± 1% 47- 63HZ
Built-in excessive pressure flows and shorts out and protects
MTBF is 120,000 hours
Safe UL/CSA/TUV/CE/3C authorizes
But operate the system Windows9x/2k/xp, many kinds of systems such as NT, UNIX, LINUX, NOVELL, DOS compatibly

Structure
Construct It is 1U 19 high " Wide framework type
Color Black ' Can customize other colors)
Install the depth with cabinet 510.5mm – 850mm (exertion is appropriate and then hangs the ear)
Size 510.5mm 41.5mm 440.4mm( W H D)
Environment
Store the environment Temperature – 20- 60 ℃/ 5%- 95% of relative humidity
Working environment Temperature 0- 45 degrees of C / 5%- 85% of relative humidity
Fit the rule to authorize Have already authorized through CE, 3C, FCC,etc.
LCD
Panel type TFT-LCD
Size 15″
It is long wide than 4:3
Time of gray steps 5/11 (Tr/Tf) ms
Compare with and spend 400:1
Luminance 250
The best resolution ratio 1024 X 768
Some distances of picture element 0.297 x 0.297 mm
Color 16.7M
Wide angle of vision 65/65/45/55 (L/R/U/D)
External dimension 326.5 x 253.5 x 11.2 mm (WxHxD)
Reveal the area 304.1 x 228.1 mm (WxH)
Reveal the mode Normally White
Consumption 10.25 W
Interface of the signal 1ch LVDS
Type in a poor light 2 CCFLs
Life-span 100,000 hours in a poor light
Input the voltage 12V direct current
The luminance is controlled Support OSD to control
Order the type
KVM-BC1501 1U /15″ TFT/KeyBoard/TouchPAD/
220V AC-Input/12V DC-Output/1 Port