The worker in North China accuses of – EMB-2500 ARM main board EMB-2500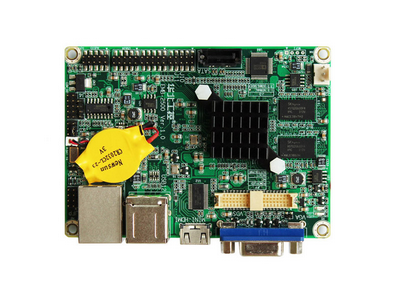 Group is in the embedded All In One Mini mother board of Freescale ARM framework
Adopt Freescale Cortex? A9 i.MX 6 serial high-performance low power consumption processors (but menu kernel, binuclear, four kernels)
It is integrated 3D pattern element and 1080p code /last video by engine
1GB DDR3 high-speed memory of year of the board, 4GB iNAND flash mass memory of year of the board
Offer many kinds of Mini-HDMI, LVDS, VGA to reveal ports, how apparently to support the independence
Board year WiFi is (available) , giga Ethernet, make the mother board have flexible network application environments
The integrated level high, All In One of the whole plate is designed, makes the mother board Mini small and exquisite (only 100mmx 72mm)
Adopt the open Android/linux intelligent operating system, it is safeguarded that more steady, easier
Offer 1x SATAII (four kernels are supported) ,1x Micro SD, 2x CAN, 3x USB2.0, 1x Mini USB(OTG) ,A great deal of extended interface such as 2x COM
The products are summed up:
EMB-2500 mother board adopt Freescale because of ARM Cortex? -The high augmentability polykaryon series of A9 framework employ the processor, not merely superstrong graphics capability, 1080P high definition broadcast and employ computational capability. There is extremely low power consumption at the same time, and the extended interface is abundant. This plate card supports interface of double-channel 24bit LVDS, one mini HDMI interface and one VGA interface, support many display functions independently; Network cards, one SATA2, 2 RS-232s, 4 USB2.0s, a Mini_USB (OTG) Interface,etc..
This product has stable and reliable properties of product of technical grade and advantage of the intelligent digital multimedia player concurrently, it is a digital sign to be very extensive, car, numerous fields such as digital control, interactive customer end, media's broadcasting, advertisement, LCD macro-screen, traffic regulation, information system, financial apparatus offer the solution.
Product specification:



Contacts: Market department
Telephone: 860755-27331166
Fax: 860755-27330851
Email: [email protected]
Web site: http://www.norco.com.cn
Address: Garden A a 6 storeys of scientific and technical innovation of the Peach Garden of hillock reservoir of west township iron in Baoan district