Three-phase transformer LW-SG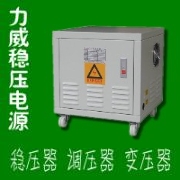 LW-SG, DG series three phases and single relevant type isolate the voltage transformer, this serial voltage transformers not merely have a voltage transformation function in the electric wire netting, the ones that still protect the machine and produce generate heat and the life-span of the insulating material is reduced. Especially suitable for import equipment to use ' 380V enters 220V appears, 380V enters Any voltage output 220V enters Any voltage output) Between the specification 1KVA-600KVAs, series LW-SG, DG are dry to isolate the voltage transformer and are extensively suitable for exchanging 50- 60HZ, input, output voltage less than various three phase supply occasions of 500V. Dampproof, safe and reliable, energy-conservation and characteristic of convenient maintenance that applicable to support extensively, can bear instant and overload, can work, fire prevention continuously for a long time. Products input and output voltage ( Single-phase, three phases or multi-channel import and export,etc.) ,Link the way, regulate the tap position, the capacity assignment of the coil, the secondary winding is allocated, external box ( Choose according to different environment for use) ,Can carry on meticulous design and manufacture products characteristic according to the request of user: The energy-conserving low noise adopts the closed assembly of the high-quality cold-reduced silicon sheet; Adopt the fabrication processing of special dip-coating, has reduced vibrations and noise of the runtime effectively; The innovative technology that and adopt the high temperature resistant insulating material to be designed,etc., new technical leading-in, make the intersection of voltage transformer and energy-conservation, further quieter further. The energy-conserving low noise coil leaves the ventilation slot, the air flow is unblocked, reduce the coil temperature effectively. The reasonable structure of the high reliability, high in efficiency, the waveform is undistorted, it is convenient and reliable to use, can run for a long time, the performance index totally accords with the standard requirement of GB/6450 dry electric voltage transformer.
–It is safe and reliable to use.
Click to enter company's official site: Germany has majestic strength
Contacts: Mr. Xu
Telephone: 860576-84871773
Fax: 86400-6993889
Email:
[email protected]
Web site: http://www.liwi-ch.com
Address: Courtyard bridge town courtyard bridge of Huangyan district of Taizhou